Four Year Strong have finally announced their highly anticipated fifth full-length album 'Brain Pain' will be released on February 28th via Pure Noise Records. This will be the band's first album since their self-titled release in 2015. In addition to today's announcement, Four Year Strong have dropped two brand new songs – 'Talking Myself In Circles' and the title track 'Brain Pain.'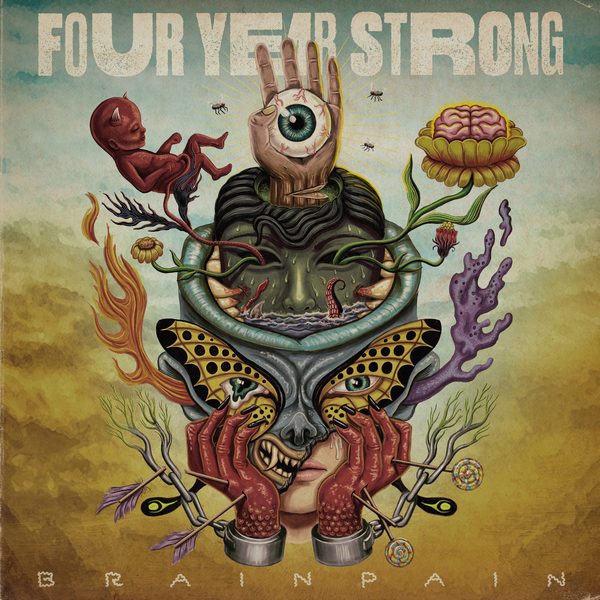 'Brain Pain' tracklisting:
01. It's Cool
02. Get Out Of My Head
03. Crazy Pills
04. Talking Myself In Circles
05. Learn To Love The Lie
06. Brain Pain
07. Mouth Full Of Dirt
08. Seventeen
09. Be Good When I'm Gone
10. The Worst Part About Me
11. Usefully Useless
12. Young at Heart
The band – which is made up of vocalist/guitarists Dan O'Connor and Alan Day, bassist Joe Weiss and drummer Jake Massucco – began conceptualizing the ideas for 'Brain Pain' two years ago and for the past year-and-a-half have focused on bringing those thoughts to fruition.
"We didn't want to set a strict deadline for this album because we wanted to be sure we took the time to write the best songs possible. In the past our writing and recording was so dependent on getting something out in time to go on tour; this time we really had the opportunity to take our time and work through these ideas." In order to capture that sound the group enlisted producer Will Putney, who was an engineer on 2010's 'Enemy Of The World' and already had a relationship with the band. "We were really emotionally invested in this music so we wanted to go with someone who we knew would care about it as much as we did and Will was that guy" Dan says.