'Hestia,' the fifth studio album from The Rumjacks, marks a new era for the band. The album introduces new lead singer Mike Rivkees, whose songwriting skills have rejuvenated The Rumjacks collaborative spirit. The album was recorded under strict Covid-conditions in Milan, Italy, where the band stayed and created this new album through August, September, and October 2020, and it will be released on Friday, March 12th, 2021.
'Hestia' takes the energy of traditional folk music, lights it on fire, then sprinkles it with ash. Dark, gritty, and historically aware, this is music grounded in the character of the Rebel. When writing the album, named after the Greek goddess of home and hearth, bandmembers Mike Rivkees (vocals), Johnny McKelvey (bass), Gabe Whitbourne (guitar), Adam Kenny (bouzouki/mandolin), and Pietro Della Sala (drums) apply their diverse American, Australian, Italian, and Irish perspectives to create a new, globalized iteration of the Celtic punk legacy dating back to The Pogues, with the punk, ska, and hard rock sounds pulsing through their veins.
For twelve years, The Rumjacks have written songs that you cannot help but start singing by the second chorus, even if you have never heard them before. In this short career, they have released four acclaimed studio albums and two live albums that capture their most renowned asset: their electric energy onstage. That organic energy has garnered them a far-reaching fanbase. The band's breakthrough hit, 'Irish Pub Song' (2011), a tongue-in-cheek jaunt about all the Irish pubs in the world, has over sixty-five million views on YouTube. The band now counts hundreds of thousands of fans in USA, Germany, France, Canada, UK, Italy, Poland, and Australia.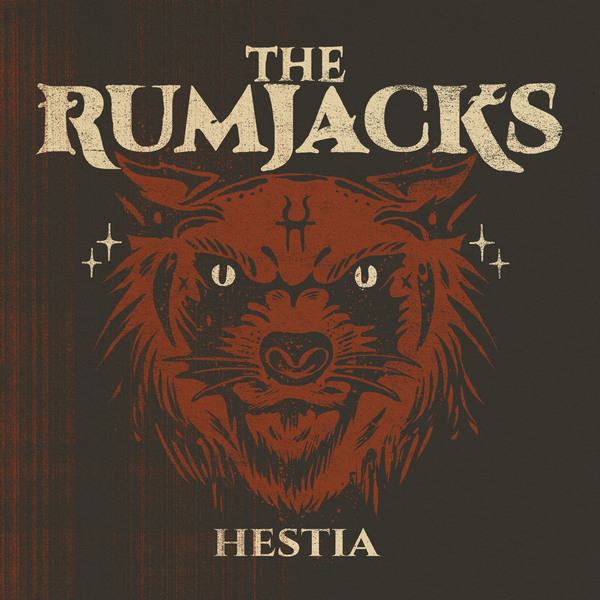 'Hestia' tracklisting:
01. Naysayers
02. Bullhead
03. Hestia
04. Through These Iron Sights
05. Sainted Millions
06. Tell Me What Happened
07. Rhythm of Her Name
08. Golden Death
09. Lizzie Borden
10. Light in My Shadow
11. Wonderust
12. Athens to the North
13. Motion
14. Goodnight & Make Mends
Lead single 'Sainted Millions,' gives longtime Rumjacks fans exactly what they need; loud, fast, rousing, and fun. 'Sainted Millions,' is a drunken chat between the living and the dead. The intro was written to be reminiscent of a soldiers' song from wars of yesterday, all of whom lay resting. With imagery of fresh spirits carelessly walking through battlefields, mid-fight, as tracer rounds whistle by overhead, the sentiment is that there is peace once on the other side.
The military references arise from the writer's walk through an old New England cemetery – and some of the characters you'd chance upon in such a place. "Sleeping sainted millions, can you tell me what you know? Sing to me a song you wrote beneath your pile of stone." The dead's response: "I wouldn't trade it for another, and I would do it all again." The song is a celebration of life from the grave.