Words: Miljan Milekić
Roos Zwetsloot is the present and the future of skateboarding. An absolute powerhouse at contests all over the world and finalist of the first-ever skateboarding event at the Olympics in Tokyo two years ago, she is a force to reckon with. She's not a stranger to hitting the gnarly street spots either, becoming the first-ever woman to grind the iconic Hollywood 16 rail. And did I mention that she's only 23? We were lucky enough to catch her right after her bronze medal at the Tokyo stop of Street League Stakeboarding, and just before her trip to the Lausanne stop of The World Skateboarding Tour. Check it out below!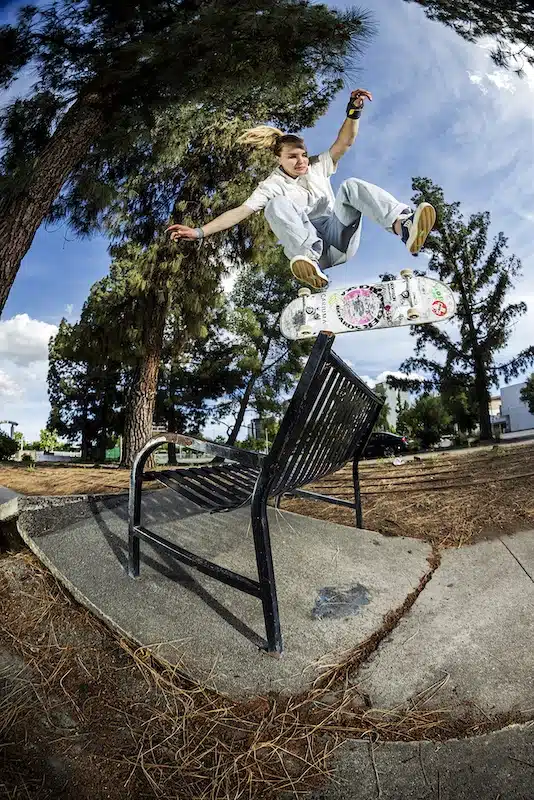 Hi Roos! First of all, how are you? How does it feel to finally be home after a while on the road?
Roos: I'm doing good, thank you! It always feels good to come back home to the Netherlands after a long period of traveling. I love travelling but I even love it more to be around my friends and family in the Netherlands.
Congratulations on a massive run and third place at the SLS Tokyo! How happy are you with the performance, and how does it feel to pick up another podium?
Roos: SLS Tokyo was awesome! I think Japan is a very fascinating country, and the people there are so nice, so to be able to go back there was already a gift. About the contest – I was hoping to aim for the podium, and I'm stoked that I got to take home 3rd place! The level of skating is so high, and the girls are pushing the limits all the time. I love to see it.
It seems like you enjoy Street League courses this year with two third places on two stops. Is there some kind of a special connection between you and SLS, since it looks like you're always in beast mode once you hit those parks?
Roos: Well, I like to go for the big obstacles and push my limits with them. I always really enjoy skating the SLS courses because, most of the time, they build big obstacles, which often causes everyone to go all in, and I like that! And besides the course, I always find the audience so supportive at the SLS. They cheer for everyone, and you can feel their energy, which, as a skater, gives you even more energy when you're on the course.
READ MORE: Check out our interview with legendary Dutch skateboarder Candy Jacobs
In between Street League stops you also took a win at Red Bull's Rio Conquest, which seems like it was a very fun event. Can you tell me more about it?
Roos: Yes, the Red Bull Rio Conquest was a special one. They make you battle against one other skater each round, and they give you a couple of minutes in those battles to show your best tricks. The obstacles were famous skate spots in Rio, and that made it so fun to skate! The location was amazing. It was in front of Sugar Mountain, and the crowd was even more amazing! Brazilian people are so nice and supportive. Of all the countries I've been to, Brazil is my favorite. I can't wait to go back!
How challenging is it to be on top of your game and adapt so quickly to different formats, different courses, and both indoor and outdoor events? Where do you feel the most comfortable, and where can you be yourself the most?
Roos: It's hard. Skateboarding itself is hard, and when you have to switch between different formats and courses, it's not always easy. When I'm at a contest, I always have trouble in the first hour because I have to get used to everything – the heights, the temperature, the light, etc. When I'm skating indoors, I get used to the course much quicker because I don't have to pay attention to a lot of things, such as temperature and light. That's why I prefer skating in indoor contests. I think they should do all the big contests indoors, also because of the weather that can change all the time.
Speaking of contests, you were one of the very few who wrote history by competing at the first-ever skateboarding event at the Olympics. How crazy and how different was that experience compared to everything else in the skateboarding world?
Roos: It was a strange but, at the same time, amazing experience. I enjoyed the contest very much because I had the feeling that all the girls were having a good time and there wasn't a bad atmosphere on the course.
With Paris 2024 being just around the corner, and with you having a great chance to be part of it, how excited are you to do it all over again?
Roos: I'm excited to do it again, and I hope to qualify for Paris 2024. It will be an honor to skate in the Olympics again, but at the same time, I think Tokyo was something very special. It was the first time skateboarding was in the Olympics, and I'm curious if Paris 2024 is going to be just as special.
Along with Keet Oldenbeuving, and especially Candy Jacobs, you helped put the Netherlands on the map when it comes to skateboarding, let alone women skateboarding. What does the skate scene in the Netherlands look like today, and do you see any changes since the time you started?
Roos: Yes, I 100% see some changes since the time I started. When I started ten years ago, most of the time, I was only skating with guys. I didn't know about the women's skateboarding scene in our country. Besides Candy, there weren't other women competing on a high level. I think Candy paved the way in The Netherlands for women's skateboarding when Keet and I were little. She helped ensure that female skateboarders were seen, and she is still rocking it! Now, with the Olympics and social media, you see a lot more young girls skating in The Netherlands. I think it's cool. I hope it keeps growing more and more.
READ MORE: Check our interview with legendary Brazillian skater Luan Oliveira
Speaking of which, when did you get into skateboarding in the first place, and how did it all happen for you?
Roos: I started skateboarding when I was ten years old. A skatepark was built near our house in our village in Zeist. One day, I went there on rollerblades and saw all the guys doing cool tricks on the skateboard, and I was immediately sold! From that moment on, I started skateboarding, and I didn't stop ever since. I combined skateboarding with field hockey for a very long time because I also loved playing field hockey with my friends. At some point, I had to decide between field hockey and skateboarding because I couldn't continue doing both sports at a high level anymore. I chose skateboarding, and I haven't regretted it for a moment.
Who were the skaters that had the most influence on you and your riding? Who were your favorite skaters in your early days, and who do you think is your favorite skater to watch right now?
Roos: The skateboarders at my home park in Zeist when I was young influenced me the most. There was one guy, his name was Jaap Langenhof, and he did those amazing heelfips at the skatepark. I looked up to him, and I wanted to skate like him. He is the person that influenced my style of skating, and I'm really happy he was there at that moment. Right now, my favorite skater to watch is Braden Hoban. He has such a high pop and amazing style, I love to see it in real life when I'm at the SLS. I know how big the obstacles are, but he just makes it look so easy. He's such a talented skateboarder.
You are mostly known as a contest skater, at least for the wider audiences, but you are no stranger to hitting the streets and doing some massive tricks on crazy spots. What do you enjoy more?
Roos: A hard question. Well, right now, I'm more focused on skating contests because of the Olympics and because I like to compete. At the same time, I love searching for spots and going out with a camera and friends. Unfortunately, street skateboarding and contest skateboarding are a bit difficult to combine, considering injuries. My idea is to focus on contest skating up to the Olympics and then put a lot of my time into working on a street part. That has always been a big goal for me.
One of these gnarly spots is a legendary Hollywood 16, which I would get dizzy just looking at, and you were the first female skater ever to grind that thing. Can you revisit that experience, as it seems like one of those thing you can hardly ever forget? How did it all go down, and what was in your mind while you were getting into it?
Roos: I had the Hollywood 16 on my mind for a while. I watched a lot of clips of male skateboarders, and I was thinking, how cool would it be to be the first woman to grind the Hollywood 16? It didn't seem impossible, but I had never seen the rail in real life. When I went to the US in the summer of 2021 for the SLS, I thought, this is the moment. I went with Sewa Kroetkov to the rail to only have a look, and it was a bit scarier than I thought it would be. (laughs) Nevertheless, I knew I wanted to do it, and I knew I was capable of doing it.
A day later, I went with a crew, and we skated the Hollywood 12 first. I was trying some boardslides, but that trick didn't give me confidence. I decided to go for the 50-50, and I landed that trick first try on the 12. We got kicked out by the security and had to come back two hours later. Once we got back, I did the 12 a couple more times, and I was confident enough to go for the 16. On the first try, I was a bit overwhelmed by the length of the rail, and I slipped out. On the second try, I landed the 50-50, and I was super stoked! My friends were there to celebrate with me, and this moment will stay with me forever.
READ MORE: Check our interview with Calgary-raised, Joshua Tree-based songwriter and skateboarder Reuben Bullock, frontman of the indie folk band Reuben And The Dark
Back in 2022, you became a part of the Cariuma team, which to me, seems like a match made in heaven, as they seem like a brand that perfectly lines up with you as a person and your style. How did it all happen, and how happy are you with working with the brand so far?
Roos: I'm really happy to work with Cariuma! They sure fit me well because I support their message to be sustainable 100%, and besides that, the shoes are just so good for skateboarding. My go-to shoe is the Catiba Pro at the moment for skateboarding. They have such a good board feeling in my opinion. When I'm not on my board I like to wear the Vallely shoe, so comfy! I'm looking forward to keep riding for the brand and doing projects together in the future.
Cariuma is a brand known for its eco-approach and sustainability, but they are not the only sustainable brand you are involved with, as you run one! Can you tell me more about Zwettie? How did it all start, and what can we expect from it?
Roos: Zwettie is my own bracelet company that I started a year and a half ago with a good friend of mine. I used to come to the skatepark without wax and I always had to borrow it from friends. Until one day a friend (co-owner of Zwettie) said – "Can't you incorporate that into a bracelet?" That's how the idea started and we started to design our bracelet with a small tube where you can put your wax. This way, you will always have wax at hand and you never have to borrow it from others. (laughs) I'm super stoked about the positive feedback we get from our buyers and I can't wait to see where we can take it with Zwettie. We also just launched our own Zwettie caps! It would be super cool if people want to support us by buying a cap or a bracelet at www.zwettie.com – we ship our products all over the world!
So what is next for you? Are there any upcoming projects you can share with us?
Roos: In the upcoming months, I will be going to the World Skate events in the run-up to the Olympics, but I will also be going to the SLS in Sydney in October. I absolutely can't wait to visit Australia. I'm so excited to go there! It will be a 24-hour travel, but I think it will be more than worth it. After the Olympics, I'm aiming to work on my street part. I already have some spots in mind that I would love to skate, so this is also a project that I'm super excited about. So, a good year ahead!
Follow Roos Zwetsloot:
Instagram: instagram.com/rooszwettie
Zweetie website: zwettie.com